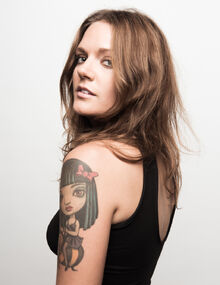 Ebba Tove Elsa Nilsson (born October 29, 1987), better known by her stage name Tove Lo, is a Swedish singer and songwriter. She was born and raised in Djursholm, a suburb north of Stockholm, where she graduated from musical magnet school Rytmus Musikergymnasiet. Lo formed the Swedish rock band Tremblebee in 2006. Following the disbanding of Tremblebee, Lo pursued a career in songwriting, earning a publishing deal with Warner/Chappell Music in 2011. Working with producers Alexander Kronlund, Max Martin and Xenomania, Lo became a successful songwriter while recording and independently releasing her own compositions. In 2014, she was signed to Martin's songwriting collective Wolf Cousins, and offered a recording deal, signing to Island and Polydor Records.
Lo rose to fame with the release of her debut studio album Queen of the Clouds, which opened at number 14 on the U.S. Billboard 200 in October 2014. The album spawned the sleeper hit single, "Habits (Stay High)", which peaked at number three on the U.S. Billboard Hot 100. In addition to her solo work, Lo has co-written a number of songs for other singers, including Hilary Duff's "Sparks" and Ellie Goulding's "Love Me Like You Do", which garnered her first Grammy Award nomination on 7 December 2015.
Ad blocker interference detected!
Wikia is a free-to-use site that makes money from advertising. We have a modified experience for viewers using ad blockers

Wikia is not accessible if you've made further modifications. Remove the custom ad blocker rule(s) and the page will load as expected.